I wouldn't expect to see an uncompromising statement regarding the Bible's condemnation of homosexual sex featured prominently on CNN. com. But on March 3, 2011, that's exactly what happened. While we may not agree 100% with all of what Dr. Gagnon writes, he makes some thought-provoking statements. What do you think?
By Robert A. J. Gagnon, Special to CNN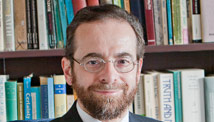 CNN Editor's Note: Robert A. J. Gagnon, Ph.D., is associate professor of New Testament at Pittsburgh Theological Seminary and author of The Bible and Homosexual Practice: Texts and Hermeneutics and (with Dan Via) Homosexuality and the Bible: Two Views.
In her recent CNN Belief Blog post "The Bible's surprisingly mixed messages on sexuality," Jennifer Wright Knust claims that Christians can't appeal to the Bible to justify opposition to homosexual practice because the Bible provides no clear witness on the subject and is too flawed to serve as a moral guide.
As a scholar who has written books and articles on the Bible and homosexual practice, I can say that the reality is the opposite of her claim. It's shocking that in her editorial and even her book, "Unprotected Texts," Knust ignores a mountain of evidence against her positions.