We have designed our web site with Christian Family and Friends of gays and lesbians in mind -- that's you, if you are a wife of a gay man, husband of a lesbian, or a son or daughter of a gay dad or lesbian mother. It's you if you have a gay or lesbian brother or sister, or if you have a friend whose orientation is homosexual. And if you wish to gain a better understanding of homosexuality, we encourage you to read and ponder the articles on this site. We also encourage you to write to us if you have more questions or disagree with anything you read. Better yet, join our email community, GLOWcircle. (Click here for details.) A Christian mother, wife, or sister of a gay man will find a supportive community, as will a Christian father, husband, or brother of a lesbian woman.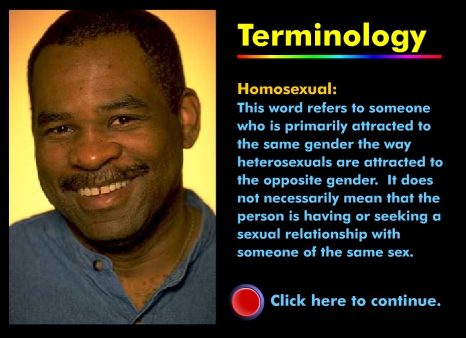 If you have just discovered that a loved one is gay and need a quick orientation on the subject of homosexuality, we recommend the FLASH presentation written by a very talented young Adventist man on one of our lists. You can click here or on the picture at the left to view it.(You will need the Adobe Flas

h player which you can download by clicking on the icon at right.) A new window will open for the silent flash movie, and this window will stay open.
In the Church Leaders section you will find articles that address spiritual issues surrounding homosexuality. In Inge's Inklings, you will find some theological issues addressed in depth -- such as an examination of the all references to Sodom in the Bible. And in Ralph's Ramblings, you will find the insights of a man experienced in crisis line counseling-- someone able to recognize the signs of serious suicidal intentions and to counsel how to deal with them.
Many of the Frequently Asked Questions come from Family and Friends of persons with a homosexual orientation. Perhaps your question has already been addressed. If not, feel free to .
In Our Stories you will find some stories of Families and Friends of lesbians and gays. We are waiting for your story to add to this list. It will help others who come after you to feel less alone.
Having been indoctrinated that "homosexuality is an abomination" and the worst of sins, we are often devastated when a child, relative or friend confesses to us that they are "gay." This is the time to seriously consider What is an Abomination to God. This in-depth essay examines all the scriptural references available. And if we have a strong urge to "call sin by its right name," prayerfully reading Calling Sin by Its Right Name and asking God for the eye salve of the Holy Spirit to see as He sees.
Finally be sure to read the Gay & Lesbian Stories (simply listed as "Our Stories" on the GLOW home page). These personal experiences will help you to understand those gays and lesbians close to you. And it's much easier to demonstrate the love of God in our relationships when we have a little bit of understanding.
---
Friends&Family Index | Story Index | Support List
Last modified 27 Jan 2010 10:08 PM